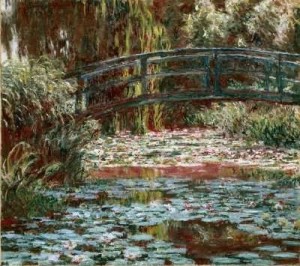 Could water gardens be the ultimate and most influential form of art ever created?
Follow me back…
Worlds Fair Paris, France 1889, the Exposition Universelle du 1889. 100 years after the French Revolution the world was changing, and at this very moment Paris was the center of it all. The world's fair of 1889 attracted the most brilliant of exhibitors from around the world. This event is when the Eiffel Tower was unveiled to the wonder and amazement of the world's most elite aristocrats, sophisticated minds, and influential artists. They were all in Paris at this time, it was incredibly exciting, a very unique and mind opening world event.
At this time too a little known French horticulturalist was invited to exhibit. He created a relatively minor display in the gardens of one of the attractions along the "World's Fair Route". This botanist had developed a hybrid flower with subtle tones of pinks and yellows; and vibrant reds. His name was Bory Latour-Marliac, his flower was a water lily; and Europe had never seen lilies other than white to grace their water gardens. His display would have been found in the gardens of Chateau de Bagatelle where World's Fair attendees came to see the Chateau for its famous architecture and gardens, the new type of flowers created by Latour-Marliac was not what drew the visitors to this site. These flowers were kind of a horticultural "side show".
However, those bright floating flowers that graced the water garden of Chateau de Bagatelle did catch the attention of one of the World's Fair visitors; his name was Claude Monet. At this time, the 49 year old Monet was a professional artist whose current paintings were mostly of the French countryside from in and around his rented home that was located in the country side in Giverny. After his experience at the Worlds Fair of 1889, Monet, already an avid gardener, undertook the construction of his own water garden. Like many of us water garden and pond builders, his first pond was not big enough so Monet decided to build it larger to the dimensions that hundreds of thousands of visitors enjoy today.
When his new pond was finished and filled from a local waterway tributary, Monet purchased from Latour-Marliac himself, many different varieties of colorful hybrid water lilies. Monet also populating the rest of his garden with plants that would create his interpretation of a Japanese style garden, fused with modern French garden design. Weeping willows, bamboo, Japanese iris and peony, ginko trees, and amazing wisteria vines with hanging clusters of blue flowers. Monet adorned the garden with a Japanese style bridge, but seemed to stay away from stone lanterns, tea houses, and some other typically traditional Japanese garden elements. Having never been to Japan, Monet received a lot of his inspiration from Japanese wood carvings and prints which he was an avid collector of.
Monet, an artist influenced by other painters and artists, created in his garden, a place inspired by the art of royal architects and gardeners of Chateau de Bagatelle. At the jardins de Bagatelle he encountered the art of Latour-Marliac a botanist who painstakingly put color into lilies. Monet was inspired by the art of Japanese garden builders and print makers whose artistic objective was to recreate nature. All of this multi level artistic influence and creativity happening near the epicenter of art at that time; Paris, France. Monet's garden was in and of itself more a piece of art than a garden, with layer upon layer of artistic influences.
Claude Monet then went on to make this amazing piece of art, into art; by making his water garden the subject of his paintings. The last 30 years of his life Monet produced 250 paintings with the subject being his water garden. Monet was totally focused on his water garden, producing a steady flow of paintings now called the Water Lilies series. With one of his paintings bringing about $80 million dollars at auction…..(someone, please pass me a paintbrush, I'll be by the pond)!
Monet said, "You know I'm entirely absorbed in my work. These landscapes of water and reflections have become an obsession. It's quite beyond my powers at this age, at yet I want to succeed at expressing what I feel." Claude Monet passed away in 1926, at the age of 86.
There you have it. One of the most important and influential artists in known history; completely and utterly obsessed with his water garden. Can you relate? I suspect he kept some very beautiful koi as well given his love of the Japanese art forms.
All this gives me a greater appreciation for those water garden and pond designer/installers out there who keep the art form alive today. Many water garden builders still use chromatella lily which was developed by Monet's water lily supplier, Bory Latour-Marliac. Latour-Marliac's well known and reliable Chromatella; or more specifically Nymphae marliacea – chromatella has become a staple of today's water garden designs! This gives very good credence to the idea of water gardens being the ultimate art form. Although many who exhibited at the Exposition Universelle du 1889 would beg to differ, like Gustave Eiffel; there is no denying that what was ultimately produced from that event that will be well remembered in human history, will be a series of paintings by a water garden obsessed artist by the name of Claude Monet.
All copyrights to this material is solely owned by Mike Gannon.