Posts Tagged 'new jersey water gardens'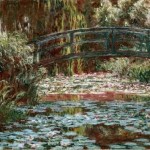 Could water gardens be the ultimate and most influential form of art ever created?
Follow me back…
Worlds Fair Paris, France 1889, the Exposition Universelle du 1889. 100 years after the French Revolution the world was changing, and at this very moment Paris was the center of it all.
Read More
As a New Jersey pond guy I am always looking for ways to encourage my pond customers to enjoy their ponds and water gardens or extend the enjoyment of their pond in the areas like the northeast where many ponds go through a "shut-down" period.
A great way to extend the enjoyment of a pond installation is decorating around the pond. In many neighborhoods one can see all sorts of seasonal displays pop up on front lawns; often times a hay bale with some cornstalks or other seasonal items. This type of display is great to extend to the pond. Sure the aquatic plants have stopped growing so how can you add visual interest to the pond? Add a seasonal display by using some nice large pumpkins, gourds, a hay bale. When Halloween rolls around try some carved, lighted jack-o-lanterns, and other spooky seasonal items, a scary skeleton pond side is great fun for the kids. For Thanksgiving and Christmas time add some lighting, a few strands of mini lights around a pond can really add quite a bit of dimension and beauty to the setting or put a banner of your favorite football team by the pond!

Read More
Stay up to date, Sign up today