Archive for the 'AQUATIC PLANTS' Category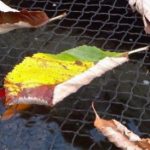 Pond netting is not all the same.
Do you have questions about what type of pond netting is best for your pond? You're not alone. Here is a great question that came into Full Service Aquatics website.
Q: What type of netting is best for a pond 5′ by 10′? There are so many online at all different prices. I am so confused. Want to keep predators from eating all the fish this year. Help?
A: When it comes to netting questions, I got ya covered…
Read More
Stay up to date, Sign up today