Archive for August, 2017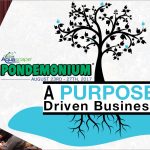 Another Pondemonium event is in the books for 2017. Aquascape Inc.'s annual coming together of pond professionals from around the world was held at the Q Center in St. Charles, Il; the "water garden capital of the world". This growing event was very well attended in 2017 with professionals coming from as far as Australia. The UK had a noticeably growing population of pond professionals in attendance for as well.
The 5 day event, August 23-27, is informational and inspirational for all types and every level of pond professional. Greg Wittstock's keynote address focused on "A Purpose Driven Business", and gave attendees many choices on how they'd like to be informed and inspired with offerings ranging from; full day leadership boot camp and workshop, presentations on marketing, best practices, employee training, and services for your pond and water garden business. Let's not forget a head spinning amount of topics for open discussion in a round table format with everyone able to give input on any given topic or just listen along. Round table discussions this year were very well attended with many having standing room only.
Read More
Stay up to date, Sign up today