Archive for February, 2017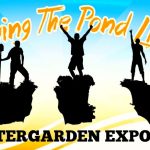 In late Winter of 2017, during an unusually warm beautiful string of sunny days, the conditions were perfect for building a beautiful pond. The conditions were perfect; for Living The Pond Life.
In a town called Shawnee, Oklahoma a diverse group of pond professionals from across the country gathered for the 2017 Water Garden Expo presented by Pondliner.com. This year's theme was "Living The Pond Life". "Living The Pond Life", inspired by Karrie Lightsey, is a philosophy of living, loving, and laughing in the pond keeping lifestyle and profession.
Read More
Stay up to date, Sign up today