Posts Tagged 'POND DESIGN'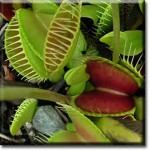 Warning:
PLEASE KEEP YOUR HANDS AND FEET AWAY FROM THE POND!
Man eating plants!! Sounds scary, and lucky for us that there are not many plants around that are attacking humans; 'Day of the Triffids" has long passed us by and all is well between mankind and the plant world for now. Flesh eating carnivorous plants!! Now here is a bit more of a reality. Even though relatively rare compared to the vast plant groupings out there, the flesh eating plant is not only out there, but may find their way into your backyard pond, and they are nothing to be scared of.
Read More
Stay up to date, Sign up today