Posts Tagged 'fish nutrition'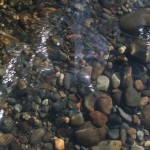 Pond…Gravel, those two words used together can make some peoples hair bristle and teeth grind. Gravel use in constructed ponds is hotly debated with lots of passion behind each side's opinion. Gravel is certainly an aesthetic choice, but it is also a filtration choice.
Gravel filtration is not a new concept although many treat gravel filtration as though it is new to the scene.
Read More
Stay up to date, Sign up today