Posts Tagged 'lotus flower'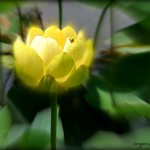 The Lotus, calling it just a flower seems like a description that is not quite fitting for such a plant. It is a plant with deep and ancient multi-cultural significance. A plant considered sacred in many religions, and mythologies. Lotus has been used medicinally for thousands of years.
Read More
The lotus flower, Nelumbo nucifera.
The relationships that are sometimes developed between man and plant can be very fascinating. This definitely holds true for the lotus flower. The lotus flower and human connection goes back well beyond 1000 years, and crosses numerous cultural and geographical boundaries even from ancient times. The lotus is even revered in a spiritual way by several cultures. Still today, lotus is a widely known and popular water garden plant that can be found in about any water garden center, just about anywhere on the planet. The lotus flower has achieved truly an iconic status with its familiar large flower head that is easily identified by even the beginner water garden enthusiasts and chefs.
Read More
Stay up to date, Sign up today