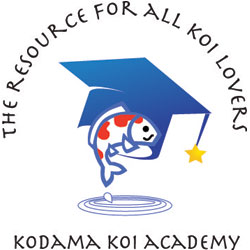 I love my koi, who they are and their beauty. My favorite koi is quite the character, he was a rescue koi, he came to me with a lower jaw that did not line up right with his upper jaw; he looks like his momma may have slapped him too hard when he was a fry, and he never recovered! His dorsal fin is actually more of a dorsal spike! He is missing a good 2 inches of dorsal fin, so we got the dorsal spike, a big finless gap, and then the fin ends with about another 2 inches of fin. I think he is a heck of a fish to watch; I appreciate him, or so I thought…
I have kept fish my entire memorable life, and I have studied them through various college programs, symposiums, workshops, labs, and have pursued self guided study. I work with fish, fish have actually been a big part of my everyday professional life as well, for the better part of 20 years now, and I still enjoy them.
A great program I took was at the University Of Georgia School Of Veterinary Sciences, it was the Koi Health Maintenance Seminar. This 3-day program examined the many factors that concern specifically, koi and pond fish health and well being.
But the program I want to review for you is the Kodama Koi Academy Master Class Program. This is a 2-day workshop presented by Mamoru Kodama and his son Taro Kodama from the Kodama Koi Farm headquartered in Hawaii. The Kodamas are importers of Japanese stock nishikigoi and distribute worldwide.
When I signed up for the Kodama Koi Academy I was pretty psyched as I have been trying to take the program for a couple of years but it is a traveling academy that just wasn't coming into my area, in early spring 2010 the academy came to North Carolina State University School of Veterinary Science, just a quick 8 hour drive, but close enough to hit it. So I did. I was expecting a program much like what I had experienced at UGA; microscopes, parasites, intestines…. Not quite.
Mamoru Kodama opened the program at 9 am on a Saturday morning. I arrived late Friday night, and I was not working on much sleep. Kodama gave his entire introduction and greeting completely in Japanese. I felt my eyes glaze over like day old Krispy Kremes because I was pretty sure I had signed up for the English version of the Academy, and I was also pretty sure I did not understand even one work of what was just said. However, Kodama was pleasant to listen too, compelling even, and I really liked the sound of the Japanese language even though I don't understand it. As I looked around I saw a few others with their Krispy Kremes on too.
Then my friend Taro Kodama came to the rescue, Taro translated everything that was just said, and continued translating for both days, also translating everything in English to Japanese for Mamoru Kodama to field questions which he did elegantly.
The Kodama Koi Academy had nothing to do with what I studied at UGA. This was a workshop on koi appreciation given by a Master Koi Judge and world renowned koi dealer. This class was about training the mind and eye to look at koi through the eyes of breeders and koi show judges. This was about seeing koi in terms of: varieties, body conformity, balance of patterns, coloration, scale placement, or lack there of. This program delved into koi history, koi culture in Japan, and discussed the current state of koi breeding in Japan. The program gave insight into the current culture of koi and glimpses into the future of the koi breeding industry, but all in terms of appreciation of koi, this is not a business course.
The program is accompanied by in class slide presentations, plenty of Q&A, and out of class interaction directly with live koi and trying out our new found skills to begin our own judging of koi. At the end of the 2 day workshop my understanding of koi and how they are bred and judged had been transformed. I would also say my appreciation for koi deepened very much. I was happy to spend 2 days with a master of koi appreciation and glean from him all I could. In many ways I was happy not to be scraping koi slime to look at slides under microscopes. This course gave me a new set of eyes to look at koi.
Now the down side is when I returned home I realized that not one of my koi, whom I love, will ever win a koi show unless they open a new judging category of "best koi personality". When that category opens I suspect we all may be flying around the country showing off our koi! I also realized that not one of my koi is worth the thousands of dollars that I like to think they are worth, and neither are the vast majority of koi, but I now will move forward with a higher appreciation of koi and the amazing animals they are and the amazing beauty they bring to our lives.
I highly recommend this program for anybody interested or passionate about koi, look for the Kodama Koi Academy to come to your area and sign up early as classes are wisely kept small. When you see the Kodamas tell them Mike Gannon says "konichiha" and remember, no matter how well you develop your eye for the apprecaiton of koi there is always room for a "best personality" koi in anybody's life! Visit the Kodamakoiacademy.com to see the current schedule of the academy and when it will be near you.