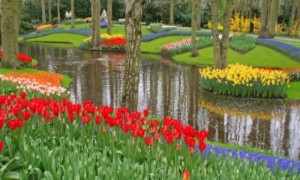 Theme ponds. Theme ponds? Yes, theme ponds!
How about a pond design based on a theme? The overriding theme for about 99% of the pond I build for people are "natural"; when the time comes to discuss design concepts pretty much everyone always says I want it to look really "natural". But how about thinking outside of the box of natural looking ponds; what about planning a fun looking pond, or a pond that really reflects who you are or what you find pretty.
So the idea of theme ponds came up and I started thinking about what would be a cool looking "theme" pond. A theme pond could really be a great way of personalizing your pond. Maybe a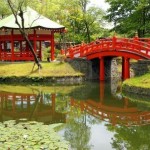 theme pond would say a lot more about who you are than that "naturalistic" pond or water feature that looks like Mother Nature dropped it in your backyard or the overly used, and often poorly executed, Japanese pond theme.
How about a theme pond that features a decorative windmill and tons of tulips planted all around it? Take it a step further and add a pair of decorative Dutch clogs on the edge of the pond, and a little Dutch flag. Find a Dutch Boy figurine the can be made into a pond spitter and all of a sudden you got yourself a theme! This theme may not be for everyone but it sure would be a real fun and interesting pond to hang out by. Setting a theme can be pretty easy.
What about a nautical theme? This could be done by using more rounded boulders and beach gravel in the design of the pond and then have fun adding to it. A nautical theme pond is great for showcasing that out of place old anchor you've had next to your mailbox for the last 10 years. Throw up some nautical netting with shells, starfish, and buoys. Work pylons, like from fisherman wharfs, into the design and an old diving helmet. This pond is starting to get fun now. How about a dock and a mermaid or dolphin spitter on the edge of the pond too? The nautical theme could be endless.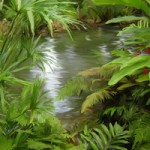 Make your pond tropical! It doesn't matter if you're nowhere near the tropics because with a little planning and some careful plant selection your pond can be transformed into a tropical paradise even way above the Tropic of Cancer's 23rd parallel. Give your pond a great waterfall for starters; that always feels tropical. Then choose aquatic plants that look tropical or actually use tropical aquatic plants if you want to winter them. Go with water lilies, different taro plants, cannas, and parrotfeather as plant selections. Choose some cool landscape plants like a non aggressive bamboo, hardy palms, elephant ear, bougainvillea, and even colorful impatiens. Before you know it your front yard might be completely "New Jersey" and your backyard "Tahiti"!
A woodland theme would be awesome, with a nice long meandering stream pouring into a pond. Add some chunky flat stone work around the edge, and some dried ornamental wood. Maybe place statuary of woodland creatures on the edge of the pond for that woodland effect. Plant some pines and ferns around the pond with pine needle mulch and presto! you have a woodland habitat right off of your outdoor living area.
So don't feel boxed into the stock design principle of "naturalistic" design, or the Japanese koi pond water garden. You can see that once you get into themes, your pond can really become an expression of who you are. A theme pond can let you keep at home a piece of an environment that you love and maybe can't always get to. A theme pond can be whatever YOU want it to be. Who says you can't have a Harley Davidson pond, a Disney pond, or a Greco-Roman pond? You can, it is YOUR pond after all. What type of theme pond would you like to design?
All copyrights to this material is solely owned by Mike Gannon.