Posts Tagged 'rain barrel'
Rain barrel hygiene! Have you been rain water harvesting without a clean up? Your rain barrel could use a good cleaning, its' been a couple of years now right? Have you taken a good look inside your rain barrel lately? You may be surprised at what you find.
Read More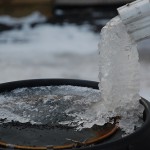 When winter sets in for the colder zones, we all have to reel in and winterize most of our backyard living accessories like rain barrels. It becomes time to store this, or tarp over that, put away and shut things down.
Read More
Stay up to date, Sign up today