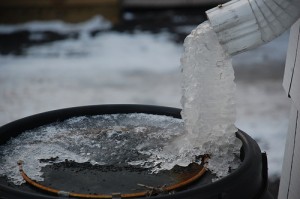 When winter sets in for the colder zones, we all have to reel in and winterize most of our backyard living accessories like rain barrels. It becomes time to store this, or tarp over that, put away and shut things down. If you're like me you milk the outdoor season for as long as you can, in total denial of the winter that is barreling down towards us like a freight train. Because of my denial I usually end up leaving something outside for the winter that I should have properly winterized and protected. One year I did not bother to winterize my rain barrel, I figured it was pretty tough and could handle it. I was wrong and ended up having to invest in another rain barrel.
So let me save you some money here and run down some quick tips for winterizing your rain barrel. How do I winterize a rain barrel? It is pretty quick and easy. I know there are many types of rain barrels so this will be some general tips for most rain barrel set ups.
• Disconnect the rain barrel from the gutter downspout.
• Connect a temporary downspout extension to the gutter that feeds that rain barrel. Position this so that it is directing rainwater away from the house.
• Use up or drain the rain barrel so there is no water left inside. Water left in for the winter may freeze and crack the barrel itself.
• Open the barrel's spigot and leave open for the period of no use, this will avoid freeze damage to the hardware of the barrel.
• Rinse the interior of the barrel. Now is a good time to clean the barrel of sediment build up that occurs in many rain barrels during the course of the rainy season.
• If you have storage move the rain barrel to an indoor storage area to really extend the life of your rain barrel. If you have not storage or prefer to leave your rain barrel outside then be sure to turn the barrel upside down.
• Cover your rainbarrel with a tarp for additional protection.
Following these very quick and easy steps on how to winterize a rain barrel, will keep your rain barrel in good condition for many years and will extend the useful life of your rainbarrel.
Do you have a rain barrel? Do you have any rainbarrel tips to share? Please give your feedback here at the LOVEYOURPOND Blog! Thanks for reading.
All copyrights to this material belong to Mike Gannon.