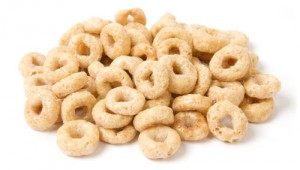 This morning I fed my koi Cheerios, yes you read that right, Cheerios. Like most mornings I went out to feed my guys before heading out for the day and realized that I was at my last handful of koi food and this was one hungry pond installation full of koi fish. The fistful of food I threw in disappeared right quick and my koi seemed to be giving me a look as if they were actually sizing me up as to whether I might make a palatable breakfast for them, should I happen to slip or accidentally get pulled into the pond by this group of otherwise unassuming pond fish.
After seeing the look in their eyes my anxiety level rose a bit as I realized they got to have mo' food. Since the local koi food store was not open at this early hour I knew I had to improvise to keep my pond full of fish satisfied, and the pressure was on. I quickly ransacked my kitchen, scrambled eggs? no. breakfast bar? no. last night's meatloaf? definitely no. Cheerios? no. or maybe yes. YES, Cheerios, I had heard of other pond people who had given this iconic worldwide oaty breakfast staple to their fish and even claimed that the pond fish liked it, so why not my pond fish, don't they deserve a good old fashioned breakfast of Cheerios? I had it forced upon me for most of my life…why not my koi too. Anyway, this box of Cheerios had been here since 2004 and it seemed half a decade later it was time to use it. Waste not want not.
I went back out to my backyard pond installation, which is a professionally installed pond by Full Service Aquatics by the way, holding the box of cereal between myself and my koi so as to make my intentions apparent to my loving koi. I sat at the arbor, just out of reach of the vice like grip of my koi's fins and tossed in a handful of those oaty treats. My koi eyed them suspiciously. One of my koi peered through the opening of a Cheerio at me with the menacing look of "if this aint' good I will squeeze right through this oaty treat, and pull YOU right back through it into this pond and teach you what a hungry fish is capable of". I shuddered to myself. Then…he ate one, then another ate one, suddenly the rush was on and they cleared those Cheerios that were bobbing around in my watergarden just a moment ago. I tossed in some more and those koi cleared the pond surface again with gusto and continued this until the idea of making a meal out of me was a distant memory.
So the lesson here is; learn what other foods your koi will accept, you may be surprised what you can find in your cabinets and refrigerator that will do in a bind. Koi will enjoy a wide variety of foods beyond the pelleted formulas that we all tend to rely on. It can be a lot of fun watching your pond fish devour oranges, watermelon, spinach, chopped hard boiled eggs, even dry cat food; all of this in moderation of course, and who knows, maybe you won't have to eat your next bowl of Cheerios all by yourself!