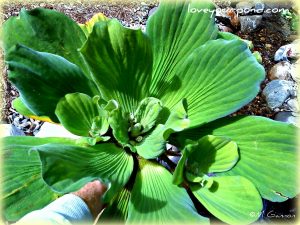 Question: Can I bring my water lettuce indoors for the winter and put them in my fish aquarium until Spring?
Answer: Some questions don't have a clear cut answer, but the short of this answer is YES, you can bring water lettuce indoors for the winter months. With that advice let's clarify the answer. If you were to bring you water lettuce in to keep in your aquarium until Spring you have some things you need to consider…
Water lettuce will need some pretty strong lighting to do well indoors, so lighting really needs to be good. Also the water lettuce will need some clearance if it is floating on the top of your fish tank. It will not work if you try to squeeze it under a tank lid so you will probably have to leave your aquarium with an open top and your strong lighting suspended above the tank. Given those conditions your water lettuce will probably do fairly well until Spring. Other indoor options would be keeping your water lettuce in some type of greenhouse enclosure in shallow pools, or kiddie pools. You will still need to provide some warmer temperatures of 70+F, very good lighting as well. Water lettuce enjoys alot of sun!
I think the best advice however; for the backyard water garden hobbyist is to compost your water lettuce after the first frost and buy new water lettuce the next season. Water lettuce is readily available and inexpensive. The cost of keeping water lettuce year round may be quite a bit more than simply purchases new plants each season. I generally advise using water lettuce as an annual in your water garden, and bring them in for some short lived indoor aquatic plant features when temperatures drop, or compost them.
Whichever option you opt for, enjoy your pond keeping experience!
Keep it pondy! -Mike
The LOVEYOURPOND Blog is written by Mike Gannon of Full Service Aquatics located in Summit, NJ. Mike is an award winning pond, water garden, and water feature builder. Always "In The Pursuit Of All Things Aquatic" Mike has been a lifelong hobbyist and providing professional services since 1995. Mike is the creator of The Pond Hunter video series seen on Youtube and has made several television appearances on Networks such as HGTV and the DIY Network. He also hosts the Pond Hunter Radio Broadcast. You can see what else Mike is up to at the following sites:
www.facebook.com/full-service-aquatics
www.blogtalkradio.com/thepondhunter
www.youtube.com/thepondhunter
www.twitter.com/thepondhunter
www.pinterest.com/mikegannon
www.instagram.com/fsaquatics
www.vine.co/Mike.Gannon
www.fullserviceaquatics.com
All copy rights to this material is solely owned by Mike Gannon.