Posts Tagged 'new jersey koi pond'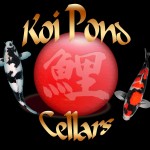 How great is it to write a pond and water garden blog yet be able to do wine reviews and it is not out of place, a wine review that is still topical to ponds and water gardens. I recently took part of a wine tasting event, a wine tasting done on a live radio show, with a company that makes mixing ponds and wine easy; two things I love. Well the wine label of Koi Pond Cellars really made this pairing come together nicely. Wine and ponds, how fine!
Read More
I was told recently while in a conversation with another koi pond keeper that my koi pond is not a real koi pond.
Now before I get to how this comment came about, let me lay out some indisputable FACTS.
Read More
Stay up to date, Sign up today