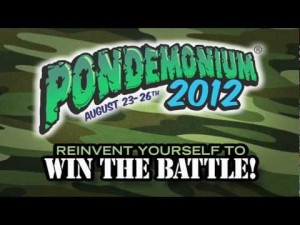 Navy Pier has been an important Chicago landmark for close to 100 years. Located along the shores of Lake Michigan, projecting 3300 feet out into the great lake; Navy Pier is Chicago's top tourist attraction. This year Navy Pier also served as the starting point for the watergarden and pond industry's biggest event PONDEMONIUM!
It's Pondemonium 2012 baby, hosted by Aquascape Inc (www.aquascapeinc.com) from August 23-26; and if you are a professional in the water garden, pond or water feature industry I hope you were there! This year's Pondemonium theme was "Reinvent Yourself to Win the Battle!" The focus for 2012 was on ways for businesses to transform and adapt to today's changing challenging business conditions and realities; and thrive within them.
The event began with rooftop meetings overlooking the bustling Navy Pier for contractors, retailers, and distributors. When the opening meeting ended, Aquascape Inc arranged for attendees to hop on board a waiting boat for a short cruise over the sparkling blue waters of Lake Michigan landing at the doorstep of the beautiful Shedd Aquarium.
Here the Pondemonium kick off party was held on the large white marble terraces of the 422,000 sq ft facility; overlooking scenic Lake Michigan and the Chicago skyline. The terraces filled with industry professionals networking, meeting old friends, and making new connections while enjoying some classic Chicago style food and drink. A live band provided the tempo for the evening. As the sun faded one of the Certified Aquascape Contractors, Ed Drohan from Alter Ecosystems (www.facebook.com/AlterEcosystems), jumped on the drums with the band and banged out some nice Grateful Dead tunes to end the evening….and the reinvention had begun.
Days 2,3, and 4 of Pondemonium were held in St. Charles, Ill; the "Water Gardening Capital of the World".  Hosted at Aqualand the world headquarters for Aquascape Inc. Aqualand is a LEED certified building with a massive "green roof", 18+ indoor and outdoor display water features of all types, a pond retail store, rainwater harvesting systems, and the "worl
d's most extreme pond".
Pondemonium offered every type of pond pro, at every level, something to get involved with. Endless networking opportunities for everyone. Contractors could choose from business building roundtable discussions, seminars, hands on training opportunities, and inspiring pond tours featuring Aquascapes latest designs. Retailers had workshops and interactive discussions with panels of water garden retail experts sharing their winning strategies. An Aquascape retail store is on sight for retailers to see store layout concepts, displays, and retailing systems for product, livestock, and aquatic plants. Aquascape distributors got previews into the exciting new pond and water garden products and supplies that will be coming out for 2013.
Inspirational keynote address from Greg Wittstock, the Pond Guy and Aquascape CEO, was not the only must see presentation. Several other inspiring speakers were on hand, including Aquascape's own Ed Beaulieu and Brian Helfrich. Both Ed and Brian are world class experts in innovative water feature design and construction among many other talents; and they were available to talk directly to attendees! If you need more than that, well pond builders from every part of the US, Canada (www.jardinsaquadesign.com ) and as far away as Australia like Patrick Handley from Waterscapes Australia (www.waterscapesaustralia.com.au) and Sean Lightbourne from the Bahamas are eager to meet and share their stories with other pond pros. The Aquascape core value of "character" is every where you turn.
The Aquascape Foundation, a non-profit, was also available at Pondemonium for those interested in helping to bring clean drinking water to impoverished areas of the world. And Pondemonium was the perfect opportunity to get involved with the Certified Aquascape Contractor program for pond builders who are looking to bring their business to the next level and become part of a team of some of the most passionate pond builders in the world.
Lunches and dinners were served during the event which included an authentic pig roast and the famous Ed's Beer Garden party which followed the annual Aquascape awards ceremony. The Aquascape core value of "winning" makes its appearance as well. Every year Aquascape Inc recognizes pond and water garden professionals in the industry to those who best represent the Aquascape Inc. corporate values of character, team, winning, and fun. Highest award honors went to Chris Siewing (www.re-createnature.com) for "Artist of the Year", the "Sustainability Award" went to Joel Reinders (www.reinders.com) and I (www.fullserviceaquatics.com) was very honored to have received the "Businessman of the Year" Award.
The theme for Pondemonium this year of Reinvention seemed to come at a time when many companies within the pond and water garden industry really needed a ray of light. That ray of light began at the Shedd and continued to burn bright for the next several days. Any business attending Pondemonium could not help but to have walked away with ideas, plans, and inspirations to implement within their companies to reinvent themselves to win the battle. Any business attending Pondemonium became part of the foundation of a stronger business community and a more solid industry. Aquascape has done yet another fine job of bringing together the best of the best in the pond industry; and raised the bar of excellence in standards for any size pond business.
Only the future will tell what the Aquascape team will come up with next year as Pondemonium grows and attracts a broader audience from around the world. If you are in the pond, water garden, water feature industry this event is simply a must, it cannot be missed. I can easily think of water feature professionals from Morocco, Sri Lanka, France, the UK, Malaysia, Spain, South Africa, and the Philippines who need to be at the event and I bet 2013 will be their year!
Thanks Aquascape for another Pondemonium event well done! Carpe Diem baby
All copyrights to this material is solely owned by Mike Gannon.