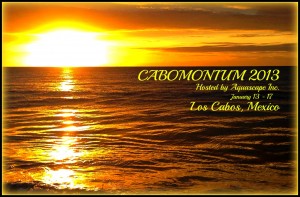 Adventures in pond building gets taken to a whole new level when Aquascape Inc. is part of those adventures. Cabomonium 2013 was quite the adventure and took place from January 13 – 17, 2013 in beautiful Los Cabos, Mexico.  Cabomonium is an annual event, hosted by Aquascape Inc., which attracts many of the top talents in the pond industry for 5 days of networking, business building, professional inspiration, creating new and strengthening old friendships. All of this happening in a quaint Mexican resort, Marbella Suites, in the heart of a world class tropical setting.
Day 1, Arrival day. Cabomonium 2013! Many attendees arriving after 8+ hours of travel. After settling into the rooms a poolside welcome reception was held followed by dinner, drinks, and group introductions. The fun and networking were officially underway. The night ended with an awesome conversation between several top notch pond builders on man vs. machine on the job site; yielding amazing insight how job sites are managed and profits from pond construction are made. The education was officially underway as well!
Day 2 offered up some free time during the day with choices of fishing trip, beach excursion, snorkeling, day trips to Cabo San Lucas/San Jose del Cabo, or just hanging at the resort. Each pond pro went to their respective excursion, continuing the conversations of ponds and the water garden lifestyle. Everyone circled back to the resort that night for an amazing fresh fish dinner caught that day by the seafaring pond builders! Drinks, music, and good company rounded out the evening.
Day 3, Meeting day in the conference center, atop of the resort with great views of towering palm trees and the Sea of Cortez. It was a "round table" type of format moderated by the Pond Guy himself, Greg Wittstock. Some of the best minds in the industry were sitting at that table, ready and willing to share their experiences on just about any type of issue or topic related to the pond and water garden business. Presentations from keynote speakers Clark O'Neill and Jerry Nelson were not only informational but truly inspiring, entertaining, and thought provoking. Clark O'Neill, a leader in the water garden and green industry, is an energetic and engaging speaker. Jerry Nelson, who calls himself a "building contractor" interestingly enough, is so much more that that. Jerry Nelson is a highly successful developer, responsible for a little town we today call Scottsdale, AZ. He is an innovator responsible for Ticketron, he is a leader and the founder of the American Leadership Academy. Jerry is a mega-entrepreneur and a well respected philanthropist; among numerous other qualities. Clark and Jerry shared their fascinating stories with the group. This was followed by interactive group discussions on all things pond, from service plans to marketing, reading suggestions, and a very cool "think tank" exercise with 2 pond builders that are about to turn pond retailers. That night, after a nice Mexican dinner, Aquascape shuttled everyone down to Cabo San Lucas for some of that famous night life starting out at an open air martini bar and finishing up at the landmark Cabo Wabo nightclub for a night of great music and dancing. The Cabomonium party continued into the night back at the resort!
Day 4 of Cabomonium was some nice down time during the day to explore the area, hang on the beach, or, umm, recover from the night before. And that evening was the Aquascape blowout bash on a private compound overlooking the Sea of Cortez. A "compound" currently owned by a member of Spain's royalty. An absolutely stunning beachfront property, beautiful sunset views, and the perfect setting for the seafood and steak dinner that was prepared by AI master cooks. In memoriam of a recently passed member of the Aquascape family 40 white floating lanterns were lit down on the beach and floated off into the night sky. It was a touching and beautiful sight as they filled the sky and winked out far away in the sky one by one; perfectly punctuated by a large glowing ring that loomed around the moon that night.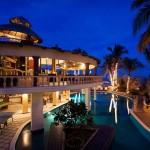 Day 5 was time for many to head back to home and business while several others stayed to enjoy Los Cabos just a bit longer. With the resort being comfortable, nicely run with a pleasant staff, and reasonably priced; who can blame them for staying longer. They surely enjoyed the nice swimming pool and hot tubs some more while having a drink from one of the two bars on property. To have caught one more sunrise or sunset on the property's private beach must be good reason to stay as well. Or even "catching up on work" from Cabo, in the business center. Not to mention Los Cabos has every type of attraction or distraction you could imagine found within minutes of the centrally located Marbella Suites. While whale watching, sea turtles, dolphin, pelicans, fishing, and an abundance of other sealife are within just steps of the property.
For those familiar with Aquascape Inc.'s Pondemonium event, this is a whole different type of event and experience. It's Pondemonium stripped down, scaled back, and under a palapa; but with every ounce of business driven intensity you'll find at the Pondemonium event. It just might be your speed! Pond professionals of every type, at every stage of growth will find something at Cabomonium for them that would make this a worthwhile business investment. See you at Cabomonium in 2014.
All copyrights to this material is solely owned by Mike Gannon.