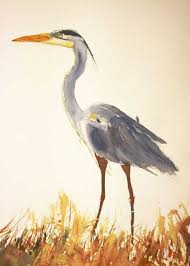 At 6:30 this morning eastern time, I was splashing a bit of 1/2 and 1/2 in my coffee, looking out my kitchen window at my pond as I do every morning, I must have been looking at it for a good10-15 seconds before I noticed that right before my eyes, standing on one of my big stones, looking into my pond was a Great Blue Heron. The heron blended so well into the scenery and was so still that my eyes did not catch it. This year my pond has been stalked a bit more heavily by the herons than previous years, and typically for my area the heron and the frantic heron phone calls from my customers stop around mid-May, but this year they are stalking the ponds it seems much longer. This heron is not the one that seems to always show up at my pond, and my brother in law's pond (2 houses away), although still very much looking like a frikkin pterodactyl, it was smaller.

I went into stealth mode, stole downstairs into the sunroom, which overlooks the pond too, and burst out the backdoor thinking, maybe, just maybe, this time I'd get the monster and wrestle him down pondside. But even with all my bursting out of the door, my hand had barely left the door handle and that bird was 30 feet away from me and 8 foot off the ground, flying off in between the trees that the other birds always flies off between too; only to perch and watch me from 100 yards away, KNOWING that I have to head off to work soon and KNOWING that it will be back to hunt my pond again. This morning the heron did get 3 of my fish, none of my big guys, but 3 of our 5 baby koi that my wife and I have been enjoying so much this year, and count about every 8 hours. Man, will she be upset. the only thing I could do at this time was to put some of our outdoor chairs around the pond, so I did, but it is now time to take some more drastic steps and consider adding some deer fencing in the area of my pond.
The Great Blue Heron, if I didn't hate it so much, is an amazing and beautiful bird, the kind of bird I could sit and watch and truly admire for it beauty, stature, and its predatorship. the Blue Heron will prey not only on my personal koi stock, No, it will eat frogs, chipmunks, snakes, baby groundhogs, baby ducks, and then some; it will attack decoy herons, and stand there getting blasted by the "scarecrow", it will figure out how to get through fishing lines, it has patience and intelligence, if cornered it will be very aggressive towards humans as well, and who needs a 4 foot tall bird pecking at their eyes. This is a true foe with a great memory for ponds to stalk. so my fellow pond owners, take this bird seriously, protect your pond when it shows up, get a dog! and remember this bird has all day to watch your pond and you don't, so beware, keep your eyes peeled it could very well be right in front of you, and let the bird know it is NOT welcome and NOT an interesting visitor to the pond, and post when you have a heron visit, the more we know of this bird the more we can fight to win the Battle of The Great Blue Heron.