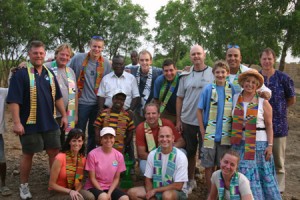 Do you have a longing to do a good thing? Have you ever considered the wealth that you have in your everyday life in your basic things? Among them, is there anything you consider precious? Have you had the privilege of some drinking water today?
Could a simple glass of water be precious? I am not talking about a glass of water with ice cubes and beautiful condensation running down the sides of it; I mean just a glass or an actual handful of water. Yes, it can be precious.
The Aquascape Foundation is an organization that was created in 2008 by its founder Carla Wittstock. This is a non-profit organization that is trying to bring about awareness of the water crisis that is occurring throughout much of the world. The mission of this organization is to create actual solutions to this problem not only by talking about it and educating, but by literally going to these parts of the world and physically doing something about it. Whether we realize it or not, water IS our most precious resource and much of the world is struggling with this actuality. As a society with seemingly plentiful water resources we cannot imagine the struggle until the well has run dry.
This struggle throughout the world does not have to be, and the Aquascape Foundation has been utilizing rainwater harvesting methods to bring clean clear drinking water to those in the most desperate need, by installing sustainable water collection and storage solutions for communities the world over. The Aquascape Foundation has done past work in Ghana West Africa and Colombia South America to the great benefit of those communities.
In 2012, the Aquascape Foundation will be traveling to Uganda. The team traveling to Uganda will be installing the Aquascape RainXchange System in Kiyindi Africa for the Needs Network School that services over 900 school children, and the Makonge Health Center that services over 100,000 people and is in desperate need of a reliable water source for the health of this community. The Rainxchange system will help the school and health center have a safe reliable water source to avoid disruptions in the daily operations due to lack of usable water.
But the Aquascape Foundation could use your help. Although the trip is in 2012, the time to help is now. If you'd like to volunteer for this trip, volunteer now! If you can give financial support, the time to support is now! Even donations of $5.00 can make a difference and larger gifts can go a very long way. To learn more about the Aquascape Foundation visit their website www.aquascapeinc.com/aquascape-foundation or go to their Facebook page Aquascape Foundation. Financial gifts can be sent to: Aquascape Foundation 901 Aqualand Way St. Charles, Ill 60174 ph: 630-659-2000
Carla Wittstock and the Aquascape Foundation team will be making a difference and you can be a part of it! Pass along this information to everyone you know and we can all make a difference in providing our most precious resource to those who need it most. Thank you in advance for your generosity and support and remember to visit the Aquascape Foundation Facebook page to see photos of the projects!