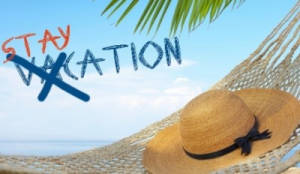 Every now and then we all come across a new buzzword. Well, in my industry and in several others as well one of the latest "buzzes" is the staycation. Maybe you've heard of this latest trend with homeowners. For some it may be a dirty word especially if you work in the travel industry; but for others, like me, it is a lovely word and I hope it makes it into the vocabulary and psyche of every American homeowner.
The staycation is born out of some of the economic pressures that our country has been struggling with the last several years and is typically referring to the option that many of us are choosing; instead of going away for a vacation and dropping several thousands of dollars in exchange for a few vacation photos, we are instead putting those funds into our backyard and making our own home a place for our family and friends to spend quality time, relax and unwind just like we do on vacation, but it's happening right here in our own backyards.
To turn our backyards into an area to have a staycation we are now setting up beautiful and comfortable outdoor furniture, we are installing high end outdoor lighting and torch systems. Outdoor recreation set-ups like volleyball, shuffleboard, putting greens. Complete and well-equipped outdoor kitchens are all the rave, along with all-weather entertainment systems for music and video enjoyment.
Closer to my heart, many New Jersey homeowners are creating outdoor paradises with ponds, water gardens, and waterfalls. Fountains, statuary, and water features are also being installed. A tranquil pond and water garden can be installed by a professional pond installer nj with amazing results and little maintenance. Beautiful colorful koi fish and lush flowering water lilies and a selection of other colorful aquatic plants are only part of the scenario; a beautiful landscape is part of it too. Many homeowners are creating their own waterfront get-away right outside their backdoor. Soothing waterfalls, colorful fish, cool clear water, and manicured aquatic plants are yours not only for your staycation but for your entire outdoor season.
For the more ambitious pond installation, families will now opt to have a "swimmable pond" installed. The swimmable pond is built a bit bigger, a bit deeper, and the filter systems produce clean clear swimmable water without all the harsh chemicals and swimming pool upkeep and maintenance chores. Imagine yourself and family having a leisurely float out in the pond on a hot summer day. Float over to the waterfall and let it crash down on you if it gets too hot. The possibilities are only restrained by your imagination and budget, but a secret rock grotto or cave to swim into can be created too, for a cool place to hang out on a hot day.
To plan your family staycation, call Full Service Aquatics for your staycation consultation and let us show you how your backyard can be transformed into a tranquil waterfront paradise. You may never want to leave for a Vacation again!