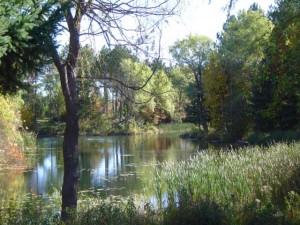 Each year I get several calls about natural ponds that need to be worked on. I enjoy working with natural ponds a lot and get great satisfaction from reviving ponds that are on their way out or have been "dead" for some time.
As the years go by I have come to realize that the term "natural" pond is a bit misleading. In reality I don't think I ever have actually worked on a natural pond but more accurately the ponds I work on have been "naturalized". About every natural pond I have worked with is really an older pond that was dug out many years ago and relied on clay to retain water. Typically these ponds were on farm lands to provide drinking water for livestock, extra water for crop irrigation, occasionally stocked with fish for food, and they also played an important role in emergency services like putting out fires in areas where fire hydrants did not exist. Some of the naturalized ponds we work with are on large estates and installed for the reasons previously mentioned but also for aesthetic purposes.
As the farming industry dwindled these ponds were for the most part abandoned and ultimately became liabilities for the property; becoming eye sores; overgrown, with poor water quality and acting as breeding grounds for pests. Nobody wants to buy properties with this type of problem sitting right under their nose so of course the ponds only get worse.
In fairly recent times many of these old farm properties and residences with these ponds have become desirable properties with young affluent families, quite smartly, purchasing them and renovating, landscaping, and beautifying them. Property owners don't know exactly where to start with the revitalization of a pond, so my office phone rings, we meet.
The good news is that with the methods we use now, the equipment we have available, and the information we are armed with allows us to turn around just about any pond, no matter how far gone it may seem to be. Using modern filtration techniques and strategic plantings, these ponds, once incredible detractions for the property now have become the center piece star attraction that probably adds more value to the property than just about anything else home owners can do to the house.
"Cute bathroom, but look at this amazing pond on your waterfront property!"
Think about this investment potential: a nice house not needing too much work with a pond in back that is breeding biting horse flies and mosquitoes, so thickly growth with aquatic weeds and vegetative overgrowth that you can hardly see the pond; or, a house that needs some work but has a beautiful pond with clean water and a healthy functioning ecosystem that is safe to swim in and a pleasure to be around.
I think the healthy pond will win every time, and if you are talking to the right guy these ponds can be turned around without too painful of an investment, maybe even less than renovating a bathroom!
So don't let that pond scare you, embrace it instead and make it the main attraction of your property and you will be so glad you did, and if the day ever comes that you decide to sell your property…be sure to list it proudly as "waterfront property"!!