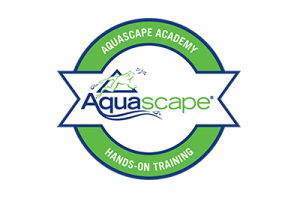 The Aquascape Academy Hands-On Training is a new initiative that has been rolled out by Aquascape Inc for professionals and business owners in the pond and water garden industry. Its never to cold, and never too far to make your pond and water garden business more successful. And even better still is doing it together with other pond and water garden professionals of every type from retailers and distributors to contractors and service providers. Aqualand, the Aquascape headquarters located in St. Charles, Ill. is the place, and the winter months are the time that it all happens. When could be a better time to start revving up your business up to take it to that next level? Do you have 2 days in your down time to make your pond and water garden business significantly better? 
The Aquascape Academy is for the new business and seasoned business alike. The workshops offered cover Construction, Marketing, Business Operations, Human Resources, and Accounting. The Hands-On Construction Workshop gives training from the best in the industry like Brian Helfrich, Chris Wilson, and Ed Beaulieu, guiding the rookie installer right past the typical learning curve and costly mistakes that can happen for new installers. With your higher level construction skills acquired, the Marketing Workshop provides amazing techniques to bring new customers to your business with online and social media marketing through creating compelling photo and video content, strategies to distribute that content, and face to face "in the field" methods of capturing and growing your customer base with custom marketing materials, pond tours, and water & garden showcases. With new customers on board the Business Operations Workshop covers a spectrum of best practices to help you serve your customers right. Topics from the workshop include service and maintenance packages, vehicle set-ups, and which equipment to have so your company is more efficient and professional in the field. Learn how to do it from the most successful pond maintenance and service division in the industry. Once field operations are flowing nicely the Human Resources Workshop teaches how to attract, interview, and retain top talent for your company and create a great place to work for your employees. Your well structured company will also benefit from the Accounting Workshop to keep your business profitable and in the black. Profitability and cash flow are a problem so many businesses face, does your company have room to improve? As long as you are focusing on improved accounting practices for your company why not learn them from the CFO of a $30 million dollar pond and water garden company who understands exactly what your business looks like and what your business needs for a healthy ledger. All of these workshops are intimate and direct, with your concerns and your questions given insightful thoughtful answers. There is plenty of opportunity for one on one time as well to discuss your concerns with any of the experts and to spend time with The Pond Guy himself, Greg Wittstock, and maybe even make it into one the The Pond Guy vlogs that are rippling through YouTube!
Be ready to take notes. If you can't cover everything you want, don't worry. You will be leaving the Aquascape Academy with the Aquascape Operating Manual. This manual gives you the ability to operate your business like a franchise, but without the franchise fee! This manual is literally worth more than it's weight in gold to the pond and water garden business owner. Can you think of a successful franchise, and do they make money at these franchises? Why not get your operations humming like a well oiled machine, and watch your company grow and profit more than it ever has before! The Aquascape Operating Manual is that road map to success developed by the most successful company in the water garden industry, and you will bring that map to success home with you as a guide and reference.
The January session of The Aquascape Academy Hands-On Training felt much more relaxed than larger events such as Pondemonium. Total attendance was in the area of 50 attendees, the largest to date, which gave the ability for deeper interactions with other professionals and not just a fist bump while passing in a hallway. Accomodations at Pheasant Run Resort were comfortable and very close to Aqualand making shuttle service fast and easy. Multiple pick up and drop offs were available during the day to suit your schedule. The staff of AI was on hand for the event and completely available to help outside of the workshops. The familiar Buckeye, the Pond Guy's dog, was there too making his rounds greeting all his old friends; and a new face was wagging his way through Aqualand, the 9 week old puppy Koda! Who doesn't love hanging out with puppies? As has become expected of AI events; the energy was high, the food was great, chocolate chip cookies were plentiful (as they should be), and the time flies by too fast.
However, there is also plenty of opportunity for networking with like minded professionals and business owners to share information on what works for them or what works for you. There's time to make new contacts and catch up with old friends. There is full access to Aqualand as well if you want to tour the on-site state of the art retail center and warehouse facility. Take some time to check out a few fish ponds, turtle ponds, and world-class biotope aquariums. Hop in the sandbox and build something if you like, sharpen your skills and water feature artistry. Of course make some time to enjoy the other facilities of Aqualand for a game of walleyball or basketball, get in a workout at the gymansium, or take a soak in the hot tub while looking out onto the beautiful snow covered grounds and ponds of the Aqualand winterscape.
The Aquascape Academy offers this training and on-going support for business owners and key staff members to make their business and mindset significantly better. There are several 2-day training events to choose from so pick the month that suits you best. The enrollment fee of  $495 covers the training, hotel, transportation to and from Aqualand, breakfast voucher, lunch and dinner; not bad. AND a $250 voucher toward marketing materials or future training events! There is also follow up support, scheduled webinars, phone support and interacting with the industry's largest group of professionals the Certified Aquascape Contractors. Best of all you will leave with a road map to success with the Aquascape Inc Operations Manual.
The Aquascape Academy Hands-On Training is the perfect way to make those winter days of anticipating Spring move along more productively.
Why are you still reading this? If you want to earn more, then learn more. What are you waiting for? Click the link below to connect directly to the Aquascape Academy Hands-On Training site to get on board, and seize the day.
SIGN ME UP FOR THE AQUASCAPE ACADEMY HANDS-ON TRAINING 
Take a tour of Aqualand!