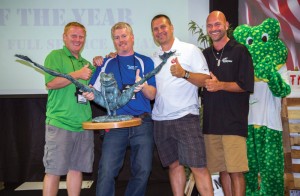 New Jersey business owner Mike Gannon has been designing and installing beautiful ponds and water gardens around the Garden State since 1995. Mike's company, Full Service Aquatics, specializes in koi ponds, water gardens, and every type of water feature large and small. This year Mike Gannon was recognized as the Aquascape Inc "Businessman of the Year" 2012 for the pond and water garden industry.
Along with installing world class custom water features Mike was recognized for his outstanding contributions to the water garden and pond industry. Mike was described as "one of the most influential people in the water garden industry" by Aquascape Inc. CEO Greg Wittstock. Much of this recognition is due to Mike's efforts and outreach through his video series The Pond Hunter which focuses on all things related to ponds and water gardens. The Pond Hunter video channel (www.youtube.com/thepondhunter) has reached nearly 1 million views from around the world. Mike also writes the LOVEYOURPOND Blog, read by industry professionals and hobbyists; with a worldwide audience. Mike's social media efforts can be seen everywhere on Facebook, Twitter, LinkedIn, and numerous other social media outlets. And an appearance on the DIY Networks #1 rated show Man Caves will be airing soon; featuring Mike creating a custom backyard koi pond.
Full Service Aquatics has been serving the New Jersey state for 17 years steadily transforming our landscapes to include stunning koi ponds, amazing waterfalls, and beautiful water gardens. FSA has donated pond installations and services to area schools, hospitals, libraries, fire departments, and nature centers. Full Service Aquatics offers design and installation of one of a kind works of aquatic living art; as well as all services from renovations and maintenance to consultations and cleanouts. Mike can be booked to speak at garden clubs, works shops, or associations.
Mike was honored and humbled to receive this award and hopes to continue to live up to the title of "Businessman of the Year".
To contact Mike Gannon at Full Service Aquatics visit his website WWW.LOVEYOURPOND.COM , or by phone (908) 277 6000 and email at mgannon@fullserviceaquatics.com. Full Service Aquatics offers a free pond assessment to any existing pond owners or free design consultation for those who respond to this article!