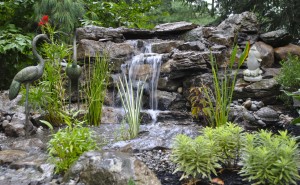 The time has finally come that you've made that decision to have a professional pond installation. Since you could not decide whether to have a water garden, a koi pond, or a killer waterfall display; you've opted to have all of them! You are going to get yourself a fusion water garden koi pond with a waterfall and stream display. You want an amazingly designed feature, you want the best equipment, and you want low maintenance; you want the exact opposite of the first 2 DIY projects you spent weeks of hard labor and tons of money on, while never getting the results you want. This time you are going to hire a professional pond installer!
But how do you find a professional pond installer? Where do you find a pond and water feature specialist? These aren't your everyday contractors. Pond and water feature specialists are not the kind of contractor you may run into at Home Depot or Lowes. So where is the best place to begin your search for the pond and water feature installer who is going to make you aquatic dreams come true?
Surely the easiest, fastest, and best way to find a pond installer is to simply hop on Google, Bing, or Yahoo and do a search for "pond installer (your state)"; for example "pond installer new jersey". This simple search should give you many varied companies that specialize in pond and water feature installations. This simple search will give you pond and water feature installation companies that will be best equipped to handle such a project. It will also connect you with pond specialty companies that will be able to support you AFTER the project is completed, something the "Jack of all Landscape" companies cannot offer. The majority of specialty pond installers will offer maintenance and support services for your pond, your fish, and your aquatic plants; and most importantly, they'll offer you experience with koi ponds and water gardens.
Another good way via the internet to find pond installers is to utilize contractor clearing house sites like Houzz, HomeTalk, or HomeAdvisor. On these sites you can also do a search for "pond installers". These sites will provide you qualified connections with a choice of several pond and water feature contractors. Contractors on these sites need to meet certain criteria to qualify to be listed on these sites as a safeguard for the consumer. The contractor connections provided are based on the information you provide such as your address and zip code, etc.
Some pond equipment manufacturing companies will offer certified contractor locators as well. Customers simply fill in their information and a choice local certified contractors will be provided. Aquascape Inc offers a great service of this type. On their website just utilize their contractor locator and pond professionals will contact you within 24 hours! It's a great service to help find pond installers.
Home shows also provide great opportunities to not only meet directly with pond and water garden contractors; they also give the contractor an opportunity to show off their design skills. At home shows you'll be able to make appointments for consultations right on site; often times with a savings on the consultation fee as a "home show special". The ability to interact with your potential pond installer helps in the decision making process because choosing your pond contractor is a whole other set of considerations.
The fun way to find a pond installer is through social media. Facebook, Twitter, Instagram, Pinterest, and YouTube will provide you with a completely different way to meet a potential pond installer. YouTube is a powerful search engine that can give you very local results and that simple search "pond installer (your state)" should give numerous options. If you need to narrow down the search use the name of your city, like this; "pond installer (your city, your state)". Your very local pond installation specialist will be easy to find. Use hashtags when searching on Instagram, Twitter, and Facebook #ponds #watergarden #koipond will connect you with pond and water gardens companies….and lots of them!
Once you find your pond and water feature installer, remember "pond installer (your city, your state)", you have some decisions to make as you choose your pond contractor to make those aquatic dreams of yours come true. In the process have some fun and don't be afraid to ask your pond installer for a private pond tour of their work, most pond installers are happy to show off their work! And when the project is complete why not take a picture, make a video and share your aquatic dream with all of the others who are aquatically obsessed.
All copy rights to this material is soley owned by Mike Gannon.