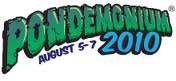 It was PONDEMONIUM baby!!
Hosted in St. Charles, Ill also known as the water garden capital of the world, from August 5-8 2010; water garden and pond industry folks descended upon this small, historic, and charming town.
Pond people running amuck, shovels crossing, dirt flying, water slopping, and fish flopping in the streets…can you imagine!!
Well, if you can imagine that, good….park that image right there in your imagination because I have a much different scenario to describe.
Greg Wittstock, THE Pond Guy and his amazing team, opened their doors to the pond industry this August for the 10th annual Pondemonium event. This year's event was a back to basics theme. Aqualand, the AI corporate headquarters, became home to hundreds of pond and water garden professionals for these several days and let me tell you, Pondemonium was far from the pandemonium described above. Quite to the contrary; pond professionals from designers and installers, to retailers and wholesalers from coast to coast and every corner of the United States, Canada, and even the Bahamas! all came together for what is by far THE pond and water garden industry event of the year.
If you haven't been to or heard of Pondemonium and you are in the water garden and pond industry you really need to get involved. Pondemonium offers something for everyone with workshops, seminars, and networking opportunities. Classes covering technical issues, business matters, sales and marketing, internet and social media, new products and technology are available to everyone. Hands on pond building, pond tours, and learning opportunities are served up in an organized and professional manner that makes this event not only educational, but easy to navigate. But it doesn't end there.
Want to be entertained? Want to have fun? Hungry?
Pondemonium offers it all. In the presentations there is lots of humor and practical advice, and even some self deprecating mockery all in good fun with lots of laughs. Many attendees stay in the local resort and have swimming, tennis, golf, night clubs, comedy clubs, bars, and restaurants on site. Aquascape Inc serves up some good grub for the attendees as well; continental breakfast in the morning. Chicago pizza, Mexican food, and more for lunch, and BBQ's for dinner. Also, the opportunity to mix it up with other pond professionals at this year's beer garden left everyone satisfied. And honorable mention must be given to a spontaneous parking lot RV party where pond people mingled in a fun setting till the early hours (gotta love pond people)! There was even an award ceremony to acknowledge the hard work and dedication of several pond professionals throughout the country, and church on Sunday morning at Aqualand.
Whether you install 2 ponds per year or 2 ponds per week, maybe you operate a major garden center or a mom and pop pond shop, if you are a professional water gardener or koi retailer, Pondemonium is an industry event you cannot afford to miss. This event was everything it should have been for a pond industry professional and at the end of the event the quaint town of St. Charles, Ill returned to it's normal rhythms of life with only the memory of the hundreds of pond industry professionals who made the "Water Garden Capital of the World" their home for a few days, and the only evidence left behind of the event are a few new water features to beautify this already lovely part of the country.
So, yes, I will expect to see you ALL there next year and all are welcome! Congratulations to Aquascape Inc for another event well done. Its Pondemonium baby and I can't wait to be back!